New Doctor in the group!
G. Moncelsi defended his PhD Thesis entitled "Stimuli-responsive host-guest systems decorated with hemithioindigo and spiropyran units" on July 26th at ICIQ.
Dr. Moncelsi grew up in Passignano sul Trasimeno, an idyllic lake town in the province of Perugia, in central Italy. She obtained both her BSc and MSc Degrees in Chemistry at the University of Perugia. During her MSc she did an Erasmus stay of six months at Imec/KU Leuven in Belgium. She then moved to ICIQ to pursue her PhD under the supervision of Prof. Pablo Ballester. During this period, she carried out a six months research stay in the group of Dr. Henry Dube at the LMU München. If she weren't a scientist, she would probably have studied foreign languages to become a translator.
Dr. Moncelsi with his supervisor, Prof. Ballester and the members of the examining committee: Prof. Valérie Heitz (Strasbourg University), Prof. Laura Rodriguez Raurell (University of Barcelona) and Dr. Agustí Lledó Ponsati (University of Girona).
CONGRATULATIONS GIULIA!!
NOAH ITN Project
Starting 2018, Prof. Pablo Ballester will coordinate an European Training Network focused in the design of new methodologies for molecular encapsulation. Researchers involved will look for new ways of trapping molecules inside molecular containers to develop, among other things, controlled drug delivery systems and sensors. The network, called NOAH, is formed by 9 European institutions including leading industrial partners Covestro and Mind the Byte. It will train 10 new Early-Stage Researchers.
NOAH project has received funding from the European Union's Horizon 2020 research and innovation programme under grant agreement No 765297.
Check our website! www.noah-itn.eu
New Doctor in the group!
J. Ramon Romero defended his PhD Thesis entitled "Interlocked Architectures Based on a Bis-Calix[4]pyrrole Macrocycle for Ion-Pair Recognition" on March 24th at ICIQ.
CONGRATULATIONS DR. ROMERO!
ICREA Conference on Functional Nanocontainers
We are organizing the ICREA Conference on Functional Nanocontainers that willtake place in Tarragona on October 17-20th 2016. This conference will bring together leading international scientists representing various disciplines (e.g. physics, chemistry, materials science, biomedicine) to present the results of their studies on fabrication, structural characterization, function and performance of nanometer-sized and/or nanostructured materials serving as containers, reactors or carriers of functional compounds.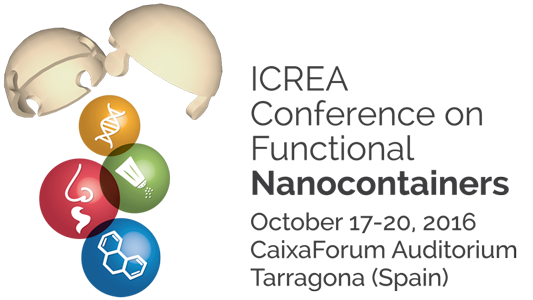 We hope you can join us!
For registration and more information you can check the conference website: